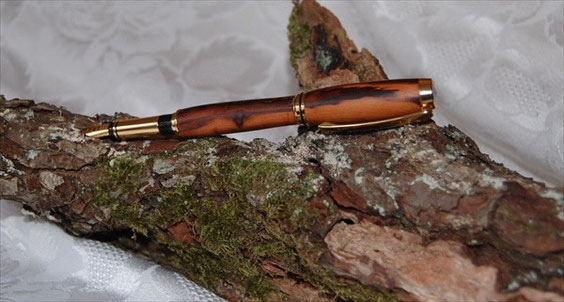 "Sunman"  is now creating unique gifts, in the form of pens.  We acquired a piece of wood from the lime trees in Rancon, with which was made into a pen for the Mayor. All our pens are created using locally reclaimed or recycled woods. Alongside the pens, we offer magnifying glasses, keyrings, whistles, and pendents. All make  lovely gifts for someone looking to own a little piece of France.  They work as birthday, anniversary, wedding gifts, or simply a souvenir of a visit.
We offer both ball point and fountain pens from numerous types of local wood in different finishes and styles. Prices are between 17 - 120 euros.  All our pens come with a velvet pouch and gift wrap. We offer presentation boxes with all pens above 25 euros.   
The new website dedicated to his wood turning is under way, in the meantime you can visit  http://www.sunmanturnings.com/ for a preview of the ranges.